This article was original published by Coatings Pro Magazine, written by Christa Youngpeter on Feb. 24, 2014
When an abandoned Colorado Springs, Colo., elementary school needed a facelift, Tom Behunin and his eponymous construction company were ready to tackle the job of helping transform the nearly-century-old structure into a revamped, multi-use center complete with a unique anchor tenant.
The fully functioning microbrewery, Bristol Brewing Company, founded by Mike Bristol in 1994, would have a new home along with a community theater, areas for various classes, as well as a new office for the architect and fellow project visionary, Fennell Group. Local restaurant owner Joe Coleman was the third backer in the trio to eye the school in 2010 after it shuttered in 2009 due to declining enrollment
Behunin Construction was selected for the job based on a referral from International Coatings' representative, Process Equipment Corp. (PEC), out of Boulder, Colo. Not only did Behunin's company have 17 years of established business, but his 40 years of experience and 20-plus years spent working for one of the world's largest brewers made him the ideal choice for the project. There were special considerations when it came to such a distinctive project, including the fact that, according to Behunin, "breweries need to kill the yeast that gets into the concrete, otherwise, six hours later if yeast is alive in the concrete, it will destroy the epoxy." Knowing this started the project off on the right foot and ultimately led to glowing reviews from Bristol and the community alike.
Old World Charm
Behunin and his team not only had to carefully prepare and coat the floors to suit a working brewery, but they also had to preserve a number of hand-drawn murals and generations of children's hand prints memorialized in 6-inch (15 cm) clay tiles in the bathrooms and locker rooms. Any dust was mitigated by partitioning off the work area from the classrooms that contained the artwork, but there was no concern that the product would cause any damage due to its lack of volatile organic compounds (VOC) and its composition of 100 percent solids.
The scope of the floor coating included 7,500 square feet (697 m²) of both existing and new concrete, using ¼–? inches (0.6–1.0 cm) of ICO-GUARD 51 troweled epoxy. Behunin's crew consisted of eight men for preparation, mixing, and installation with an additional four full time employees available if needed. Approximately 2,000 square feet (186 m²) of the concrete was original to the structure that needed to be sloped to drain. As for the other areas, approximately 2,500 square feet (232 m²) was newly poured in the fermentation areas and 3,000 square feet (279 m²) was poured in the packaging and warehouse areas.
Double Hop Process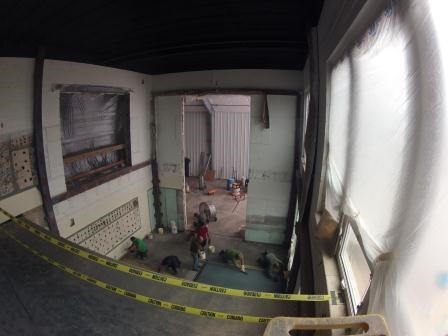 The project was completed in two phases, with one week needed to coat the brew house and fermentation floors and four days for the packaging and warehouse areas. Preparation for the ICO-GUARD included Metabo diamond grinders as well as Ingersoll Rand air grinders, both 7 inches (18 cm). The crew also used dust control systems to help preserve the existing artwork.
The crew applied ICO-PRIMER LV and ICO-GUARD 51 between ¼–? inches (0.6–1.0 cm) in one step. They broadcast Black Lab Silica Quartz Sand for texture and 20–30 mesh for fermentation and packaging areas. Finally, in the brew house that is visible to the public, Black Lab Silica Color Quartz was broadcast to add an esthetic finish.
There were no environmental concerns with the project other than controlling indoor temperatures during the chilly Colorado winters. "It was a cool ambient temperature," noted Behunin, "so we brought in 15,000 BTU [4,396 watts] heaters to keep the ambient temperature up around 70 degrees [21° C], and the temperature was maintained throughout the process including cure times."
A large rollup door needed for equipment access had to be isolated to control the indoor climate. The product itself, as noted previously, contains no VOCs and is comprised of 100 percent solid materials, so there was no concern regarding off gassing during curing. Safety equipment included dust masks and full facemasks for acid etching and chlorine bleach sanitation.
Ice Cold Brew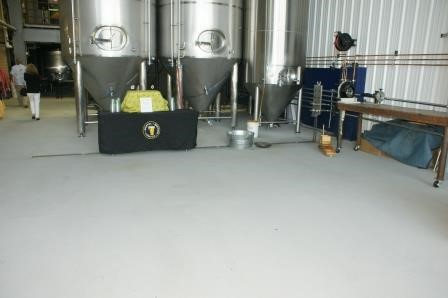 Norm Klapper, a representative of PEC, noted that ICO-Guard's (literal) flexibility and other properties made it the ideal choice for Behunin and the Bristol Brewery. "It's been used for years at other big breweries; the main reason being: it's used really good [sic] for cold facilities with hot water wash down and can handle cool temperatures to 180 degree [82° C] temps really well."
The product's excellent damp adhesion properties worked well with the project's new concrete as well as the sloped floors needed for draining. Klapper added, "ICO-GUARD 51 has a compressive strength close to concrete [around 5,500 psi or 37,921 kPa], plus has greater thermal expansion and more flexibility that allows the finished coating to bend rather than crack." In the event that an area would need to be repaired, small kits are available and the project can be troweled in to create a seamless fix. But for Behunin's crew, the goal is always to hand over a seamless floor.
Close Business
Behunin Construction and PEC maintain a close partnership, and Behunin is PEC's number one user of their product. "I have five to six million square feet [~550,000 m²] of floors out there with less than 1,000 square feet [93 m²] of warranty work," he explained. Behunin credited much of his success to his passion for quality work and careful preparation as well as his family: his wife, who is president of the company, his two daughters, who help run the office, and his two sons, who work in the field.
Bristol Brewing Company opened the doors to its new location in late May of this year to rave reviews from avid beer-loving locals, and it looks forward to increased production of their award-winning brews thanks to the new facility. "Tom Behunin was great to work with and a true professional, and the finished floor is an amazing level of quality," said owner Mike Bristol. "Our previous facility was 100 yards [300 feet] away, and we had been there from 1998 until spring of this year as we needed more space for production and visitors to gather and drink beer," he added.
The project was an interesting opportunity; it was close by and enabled the businesses to plan together. For example, the quartz in the brewery floor was something Norm Klapper and Tom Behunin formulated together and presented to their client, and the finished product wowed both Bristol and visitors to the brew pub, including the many former students of Ivywild School who now come back to check out the facility.
This project has become a true full circle transformation for the area and a great overall success for client and contractor alike.